Here are all three volumes of the original 1985 edition of Inside Macintosh as a searchable PDF: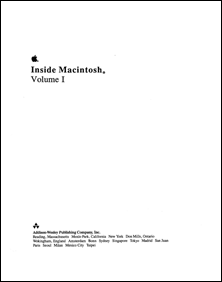 Inside Macintosh Volumes I, II, III
(1284 pages, 18 MB)
Inside Macintosh consists of three volumes. Volume I begins with the following information of general interest:
a "road map" to the software and the rest of the documentation
the user interface guidelines
an introduction to memory management (the least you need to know, with a complete discussion following in Volume II)
some general information for assembly-language programmers
It then describes the various parts of the User Interface Toolbox, the software in ROM that helps you implement the standard Macintosh user interface in your application. This is followed by descriptions of other, RAM-based software that's similar in function to the User Interface Toolbox. (The software overview in the Road Map chapter gives further details.)
Volume II describes the Operating System, the software in ROM that does basic tasks such as input and output, memory management, and interrupt handling. As in Volume I, some functionally similar RAM-based software is then described.
Volume III discusses your program's interface with the Finder and then describes the Macintosh 128K and 512K hardware. A comprehensive summary of all the software is provided, followed by some useful appendices and a glossary of all terms defined in Inside Macintosh.
I have been told that there are several people in Apple's operating system kernel team today that are younger than the original Macintosh, therefore I see this as act of preserving retrocomputing documents; the times when someone cared about the copyright of this must have long been gone.